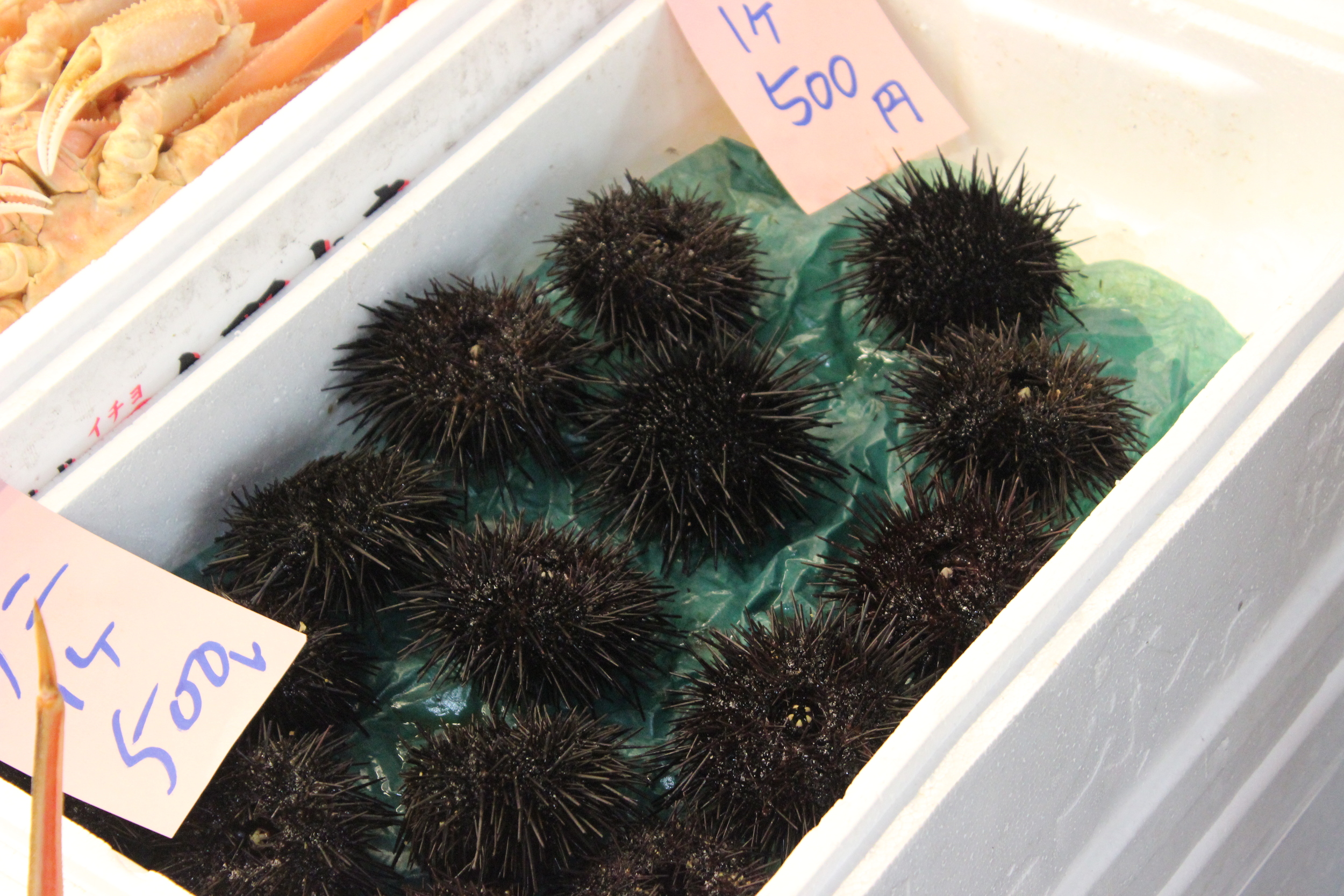 One of the highlights of the Tokyo trip was venturing into the Tsukiji fish market. Given the fundamental role that fish and seafood plays in Japanese cuisine, I probably shouldn't have been surprised at the sheer volume of fish we saw. While we did run into the old standards that you would expect to see ( Salmon, tuna, shellfish), Japanese cuisine's use of raw seafood products means that everything was to be super fresh. As a result, we saw live fish and seafood, in Styrofoam aquariums with bubbles being pumped in. As we moved from one seller to the next, we oohed and awed like little kids at oysters bigger than my head, and crabs so big they looked like lobsters. For those who Although the market is geared towards wholesale buyers, we did see Japanese individuals buying smaller quantities of fish for personal use. Some of the fishmongers have also started selling tuna sashimi and different kind of fish products that can be consumed raw. We really wanted to buy some, but since we didn't have a fridge, it didn't seem wise.
Outside the market, there is a another market that sells fruit, vegetables and of the utensils needed for sushi making. If you come hungry, you can eat some of the freshest sushi in the land in any of the tiny sushi restaurants and cafes surrounding the market. We didn't feel like standing in line and made a bee-line for a place that was empty and had amazing food!
All in all, the fish market expedition was one of the highlights of our trip. Yes, we had to get up early and venture far to make it, but the sights, sounds and characters we saw made every minute of lost sleep 100% worth it. It was also super fun to be in the middle of more working class Japanese people, who seem to be much happier than the stressed out "salarymen"
we saw during the rest of our trip. My only regret is that we didn't manage to get up super early to see the tuna auction (which starts at 4 am or so).